Allow God To Direct Your Life – Proverbs 3:5-6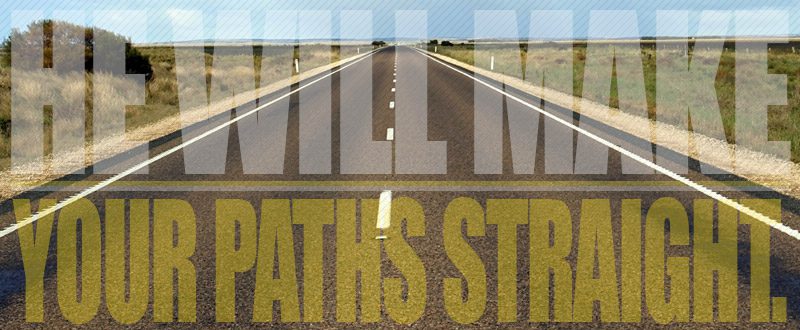 If you've been a Christian long, you likely know this week's verses. The first time I heard Proverbs 3:5-6 was in Sunday school as a child. These are definitely words to live by. Yet, as a child, I did not fully appreciate the meaning and content of these passages. Most kids won't. However, the more I age and have "experienced" this world we live in, the more I rely on this promise from God. Let's look at the reasons why I keep this verse in my spiritual toolbox at all times.
5 Trust in the Lord with all your heart and lean not on your own understanding; 6 in all your ways submit to Him, and He will make your paths straight.
Anxiety and Worry
I have Obsessive Compulsive Disorder (OCD) and generalized anxiety (GAD) as well. I know and have played the anxiety and worry game all too well. To the point where it has been debilitating before. Verses like these are what keep the sharks at bay, and keep my mind and my life focused on TRUTH. The "what ifs" and the lies that torture my mind quickly lose their strength and I can see them clearly for what they are. The truth will set me free, and I am to be anxious about nothing. I can choose to trust in the Lord and His promises, and not rely on my false feelings, or understanding.
Stress
Stress is a global and indiscriminate culprit and affects everyone, including yours truly. No matter what stress I am dealing with, God reminds me here to submit it to Him and let Him sort it out for me, or in other words, make my paths straight.
Struggles
You have struggles, I have struggles. Difficult seasons in life can shake one's foundation, even causing doubt in their beliefs. However, there are God's promises to remember and always consider when dealing with a struggle or difficulty, hundreds of promises in fact. The Bible is littered with God's promises, ensuring me that He want's me to just rely on Him, even when I don't know how or feel like it. He tells me to just give it all up to Him. I may never know why certain things transpire in this life, but one of the promises He has given us is that the victory is already won.
Freedom
Proverbs 3:5-6 is simply another reminder of the freedom I have in Christ. I get to rest with the knowledge that He works all things for good for me, He loves me, He wants me to give Him my burdens and cares, He doesn't want me to worry or be anxious, the spirit that lives inside me is greater and more powerful than this world. I can simply choose to submit my life, my plans, and my heart to Him in humility, and God gives me freedom from it. He says "I will make your paths straight."
I choose to let God determine my destiny, my decisions, my life. He is the author and creator, and He is in control. I choose not to rely on my understanding or feelings, but His. Will you choose to let God make your paths straight?