5 Must Haves For Any Kitchen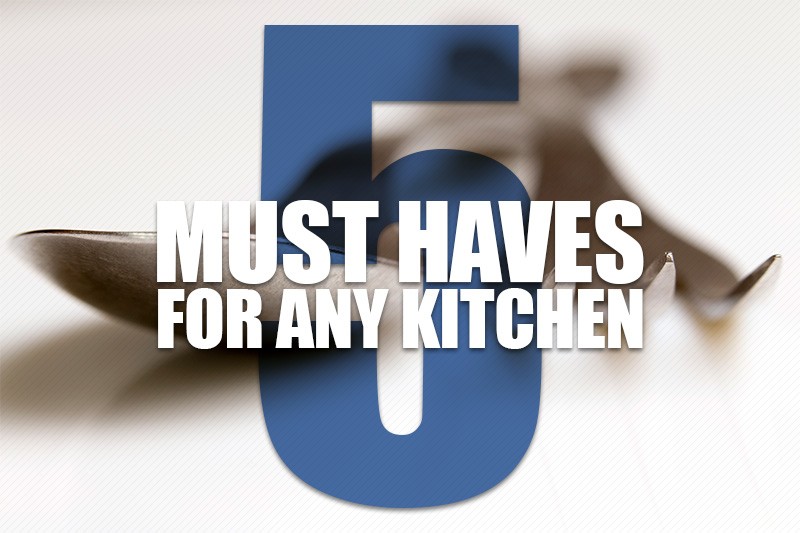 So over the past year or so I've really gotten settled into a different lifestyle in regard to overall health customs and routines. If you follow me on Facebook, I often post recipe ideas or workout routines I have. Today, I thought I would share my top 5 must haves in my kitchen. No, the microwave, fridge, stove and oven aren't in the list, those should be a given. Let's kick things off.

1. Food
Ok, so this one kinda seems like a "duh", but how many times have you heard, or maybe said yourself, "There's nothing to eat". Keeping your cupboards and fridge stocked with healthy ONE INGREDIENT foods leaves you much less likely to order up delivery or take out. Just as important is keeping foods out of your cupboards that you know shouldn't be in there. If you don't buy it, you won't be tempted to eat it later. My biggest hurdle was soda. I finally ditched soda about a year ago. Once I stopped buying it and replaced it with teas, coffee and good ole water, the cravings actually diminished much faster than I thought they would. This was after years of drinking the stuff like it wasn't going to be on the shelf the next time I went to the store.
2. Digital Food Scale
If you are counting calories, an accurate digital food scale
is a must have. Otherwise, you are just guessing, and unless you are a seasoned pro at weighing macros, probably guessing wrong. The scale shouldn't be used just to weigh food for counting. Once you are in maintenance mode, I recommend not counting and just eating for how you feel if you've developed healthy eating habits. The scale should obviously also be used to correctly measure ingredients to recipes you are making.
3. Food Processor
The food processor could almost be number one. It is a very close second. I use a Ninja
, and I could not eat a lot of the meals I've come to love without it. No longer am I beholden to eating high fat ground beef and sausage at the store because I can't process the meats. I use mine to make everything from my own extremely lean ground beef, sausage, pork, and chicken, to making cauliflower rice and banana ice cream!
4. Storage Containers
Different sizes of food storage containers are your best friend when planning and prepping meals. If you dedicate a couple times a week to prep and plan out your meals, you can then easily store them and reheat later. This keeps your diet consistent, easy, maintainable, and most often times more affordable. Most importantly it keeps you from eating "on-the-go", which we all know what that means.
5. Spices
A wide variety of spices keeps your taste buds happy. I personally always have a large quantity of cinnamon on hand. It goes on everything from sweet potatoes to apples. I also keep black pepper, cumon, oregano, paprika, chili powder, red pepper flakes and garlic always on hand. Not only do these spices take food that are bland to grand, but they are good for you and spices such as cinnamon, black pepper and cumon actually can help boost up your metabolism! Win, win!
Well, what do you think? Do you have a must have in your kitchen? Leave your comments below!